Beston tyre to fuel recycling plant turns waste tyre to fuel oil through the process of pyrolysis. Being different from burning tyres for fuel, it recycles the waste tyres to fuel oil, carbon black, steel wires and combustible gas in high temperature and oxygen-absent environment. Therefore, you can also call it tyre to fuel oil plant.
Specification and Parameters of Beston Tyre to Fuel Recycling Plant for Sale
Model
BLJ-3
BLJ-6
BLJ-10
BLL-16
BLL-30
Capacity
1-3t/d
4-6t/d
8-10t/d
12-16t/d
30-35t/d
Working Process
Batch
Batch
Batch
Semi-continuous
Fully continuous
Reactor Size
φ1400*4900mm
φ2200*6000mm
φ2600*6600mm
φ2800*7100mm
φ1800*18500mm
Reactor Material
Q245R
Q245R
Q245R
Q245R
310S stainless steel
Drive System
350 reducer+4kw drive motor
400 reducer+5.5kw drive motor
400 reducer+5.5kw drive motor
500 reducer+7.5kw drive motor
ZQH650-50 reducer+15kw frequency conversion motor
Land (L*W*H)
18m*4.2m*6m
30m*12m*8m
30m*13m*8m
33m*13m*8m
70m*20m*10m
Power
16.65kw
37.85kw
44.3kw
55.6kw
256kw
Burner
2*200,000 kcal
2*300,000 kcal
2*300,000 kcal
2*400,000 kcal
2.5 million kcal per set
Total Weight of Shipped Materials
About 18t
About 24.5t
About 28t
About 34.5t
About 150t
Number of Containers
1*40HQ
1*40FR+1*40HQ+1*20 GP
1*40FR+2*40HQ
1*40FR+2*40HQ
25m*8m bulk cargo+8*40HQ
Noise (dB)
≤60
≤60
≤60
≤60
≤60
Heating Materials
Fuel oil (including tyre/plastic pyrolysis oil), natural gas, LPG, diesel, etc.
Condensing System
Vertical Condenser
φ426*3000
Single piece condensing area
7.58m2
φ630*3600
Single piece condensing area
17.8m2
φ630*3600
Single piece condensing area
17.8m2
φ820*3600
Single piece condensing area
35.6m2
φ920*3200
2 sets of vertical condenser
3-in-1 Condenser
3000*2200*2250
Condensing area
17.51m2
5800*2260*2500
Condensing area
35.85m2
5800*2260*2500
Condensing area
35.85m2
8000*2260*2500
Condensing area
49.5m2
Superiority of Beston Tire to Fuel Plant
Originality
Original heating structure design-combining the open fire heating and wind-type heating together to improve the heating efficiency.
Original protective casing for the reactor-add refractory material to the casing of the reactor to protect the operator from high temperature.
High Efficiency, Low Fuel Consumption
We have fully automatic and continuous pyrolysis plant for sale, which has higher efficiency and larger capacity(24ton/day).
Combustible gas can be collected and used to heat the reactor back to reduce fuel cost.
The protective casing also ensures a low heat loss.
Three-in-One fuel oil discharging system: improve working efficiency.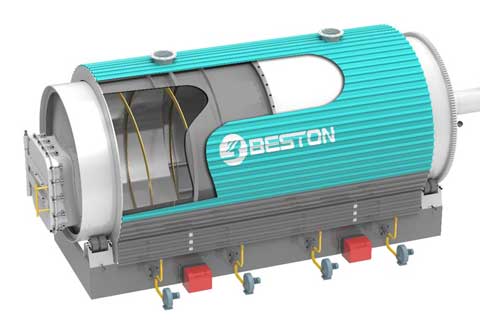 High-leveled Safety
We have the 100% burnt-proof, 100% explosion-proof and 100% fire-proof techniques
The machine has a specialized thermometer and pressure gage to monitor the temperature and air pressure at any time to make sure a stable and safe working procedure.
We use a small furnace door on the reactor to guarantee a safe and stable pyrolysis process.
Eco-friendly
The emission of our waste tyre to fuel recycling plant is 100% safe because we have professional filtering technology and system to make sure it meets the EU Environmental Protection Emission Standard.
The water in the hydro seal is circulating, so there will no water-wasting in the process of working.
Fuel Extracted from the Tyres
The fuel from tyres usually refers to the pyrolysis oil, also called tyre oil. It is the main by-product of the waste tyre to fuel recycling plant. The pyrolysis oil can be used as a kind of fuel oil directly but if you choose to refine it into qualified diesel oil by a crude oil distillation machine, it will be much more eco-friendly and valuable. Besides, there will also be combustible gas during the working process of pyrolysis. This kind of gas can be used as fuel to heat the reactor directly to reduce the fuel cost of the customer.
Except for the fuel, there will also be steel wires and carbon black. Both of them can be sold on the market. Steel wires can be used to reproduce steel bars in steel factories. And the carbon black can be used as the raw materials to produce fortifier, filler, and colourant in rubber and plastic industry, or, you can use a carbon black grinder to get much finer carbon black and sell them at a higher price.
Process of Tyre Recycling into Fuel Oil
Take the continuous-type waste tyre to fuel oil plant for instance, there are five steps in total,
Step 1. Pre-treatment – wire drawing and shredding: the tyre shredder for sale will shred the big tires (diameter>12mm) into small piece after the wire drawing machine draws the steel wires from the tyres.
Step 2. Heating: heat the pyrolysis reactor. You can choose your own fuel, such as LPG, natural gas, etc.
Step 3. Oil gas generating, collecting and liquefaction: when the temperature reaches to 160℃, oil gas will be generated. And then the oil gas will flow to the manifold. Heavy particles of the oil gas will be liquefied into heavy oil and stored in the heavy oil tank; light oil gas will rise up to the condenser and then liquefied into light oil. It will be stored in the light oil tank.
Step 4. Combustible gas recycling: combustible gas will be cleansed and desulfurized in the hydro seal and then continue to supply heat for the reactor.
Step 5. Discharging: before discharging, the residual gas will go through the de-dusting system and then the filtering system in the spray tower which including the parts of water spray, washing, ceramic ring adsorption and activated carbon adsorption. Finally, it will meet the EU Environmental Protection Emission Standard. During the whole process of working, the carbon black is automaticaly discharges through the discharger.
Waste Tire to Fuel Recycling Machine: A Better Option for Your Tyre Recycling Business
Doubtlessly, our professional waste tyre to fuel recycling plant excels in the international market of recycling plants depending on the innovative techniques, safety, and high efficiency. We know that there are also many other excellent pyrolysis equipment suppliers in the world, but we believe it will be a better choice if you choose us because we have a strong and professional after-sales service team and we can provide the following services,
1.We can send our professional engineering team to the customers' place and help with the assembling and commissioning.
2.There are also training courses for the local workers to teach them how to operate the machine properly.
3.Returning visit after the machine is installed to see if the machine working smoothly.
Waste to energy is an industry with huge meanings to the planet and our offspring. Beston aims to provide more affordable recycling plants like the tyre to fuel recycling plant to everyone and every organization who needs them. Wanna know more about our waste to energy plants and project, go back to the homepage now.